I like brunch recipes that can be prepared the day or evening before and put in the oven the next morning. This Easter I'm making an overnight egg dish that tastes like a quiche, but without all the work. I'll make it even easier by prepping the ingredients on Saturday morning.
Fry and crumble the bacon. Place in a Ziploc® bag and refrigerate.
Crush the corn flakes and cut the Country Hearth Split Top White bread into approximately 3/4″ cubes; store in separate containers.
Lastly, whisk together the wet ingredients. Place the mixture in a glass or plastic container, seal tightly, and keep in the refrigerator. Before going to bed on Saturday night, I'll assemble the quiche casserole according to the recipe. In the morning, while the quiche is baking in the oven, I'll have time to set the table, make coffee and cut up fresh fruit to serve on the side. (I'm going to be sure to leave room for a small chocolate bunny for dessert!)
easy overnight quiche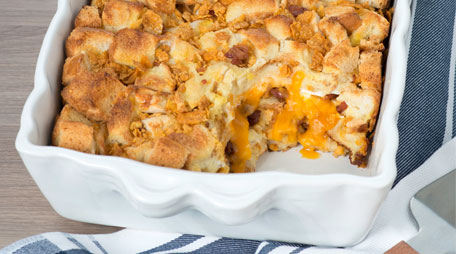 Serves 6-8
16 slices cubed Country Hearth Split Top White Bread
1 lb. cooked, crumbled bacon
10 oz. shredded cheddar cheese
1 1/2 cups shredded Swiss cheese
6 eggs€
3 cups milk€
1/2 teaspoon onion powder
1/2 teaspoon salt€
1/2 teaspoon dry mustard
3 cups coarsely crushed cornflakes€
1/2 cup melted butter
Directions:
Grease a 9x—13€ baking dish. Spread half the bread cubes evenly in dish, top with bacon and both cheeses. Cover with remaining bread cubes. Using your hands, push down into the dish. In a mixing bowl combine eggs, milk, onion powder, salt and mustard. Pour evenly over bread cubes and cover tightly. Refrigerate the prepared breakfast quiche overnight. Remove quiche from refrigerator. In a mixing bowl, combine cornflakes and butter. Spread on top of quiche. Bake at 375 degrees for 40-45 minutes. Allow to rest for 10 minutes before cutting quiche.